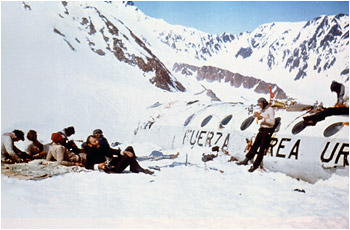 In 1972, a few days before Christmas, the teletypes of the world were stunned with the news that the rugby players who had an air crash in the Andes two months earlier, had resuscitated. Roberto Canessa, 19 years old, and Fernando Parrado, 24 had managed to walk across the Andes Mountains two months after the tragic accident, to tell the world that there were still 14 teammates alive in the fuselage, at 3.600 meters of altitude.
This shocking story, possibly the greatest story of human survival of our time still impresses people from all around the world.

Don't you know this story? Haven't you heard of them? If you don't know this story, it will reach your heart. And if you do, it will do as well.
The experience of human beings in limit situations still passionates us all, because each one of us, have our own 'cordilleras' to climb. Day by day, each one in his own way, climbs his mountains.
On Friday October the 13th, a plane carrying a team of young rugby players and their friends crashed into the remote, snow peaked Andes. Out of the forty-five original passengers and crew, only sixteen made it off the mountain alive. Their hope of being rescued vanished when they heard -on the tenth day- through a small transistor radio receiver that the search had been called off, for all efforts of finding the lost aircraft and any survivors gave negative results. The rescue airplanes on their search had flown above them several times, but as the plane was white, it was impossible to spot from the air and they were all thought dead. For ten excruciating weeks they suffered deprivations beyond imagining, confronting nature head-on at its most furious and inhospitable. And to survive, they were forced to do what would once been unthinkable...

Their story is one of the most astonishing true adventures of the twentieth century.